19 MAY > 26 SEPTEMBER 2021 / CURATORS: HANNA BOUGHANIM & ÉLODIE BOUFFARD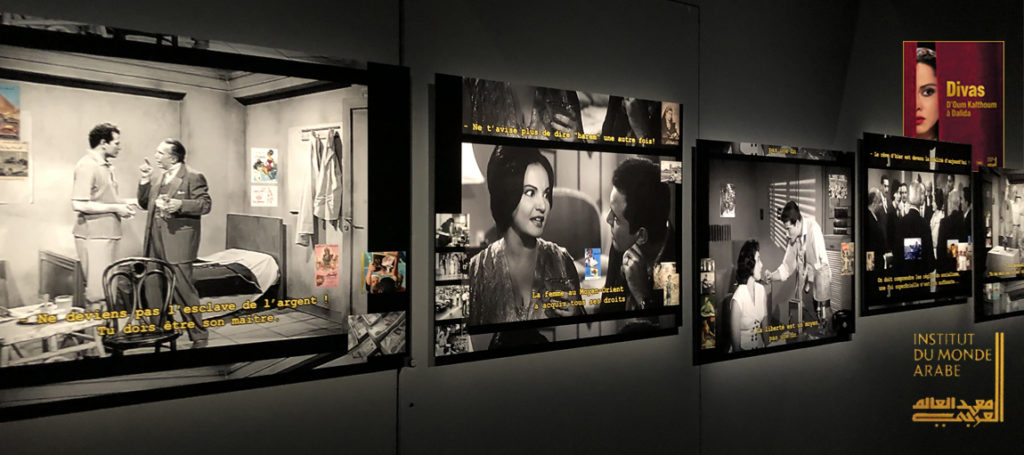 D'OUM KALTHOUM À DALIDA
L'exposition Divas dresse les portraits épiques et étonnants des divas de l'«âge d'or» de la chanson et du cinéma arabes, à travers un parcours abondamment nourri de photographies d'époque, souvent inédites, d'extraits de films ou de concerts mythiques, d'affiches cinématographiques au graphisme glamour, de magnifiques robes de scène, d'objets personnels et d'interviews rares.
La dernière partie de l'exposition met en valeur les regards d'artistes d'aujourd'hui sur ces divas, dont l'héritage est une profonde source d'inspiration pour toute une nouvelle génération. Création musicale holographique, installation vidéo, films, photomontages: autant d'œuvres fortes nées de ce patrimoine musical et iconographique unique réapproprié.
FROM UM KALTHUM TO DALIDA
The exhibition Divas, paints epic and astonishing portraits of divas from the « golden age » Arabic song and cinema, through a journey richly nourished with period photographs, often unpublished, extracts from films or legendary concerts, cinematographic posters with glamorous graphics, magnificent stage dresses, objects personal and rare interviews.
The final part of the exhibition showcased the regards of today's artists on these divas, whose legacy is a profound source of inspiration for a whole new generation. Holographic musical creation, video installation, films, photomontages: so many powerful works born from this unique musical and iconographic heritage reappropriated.