36/36 ARTISTS CELEBRATING PAID HOLIDAYS – FRANCE
17 JULY > SEPTEMBER 2016 / CURATOR: PASCAL AMEL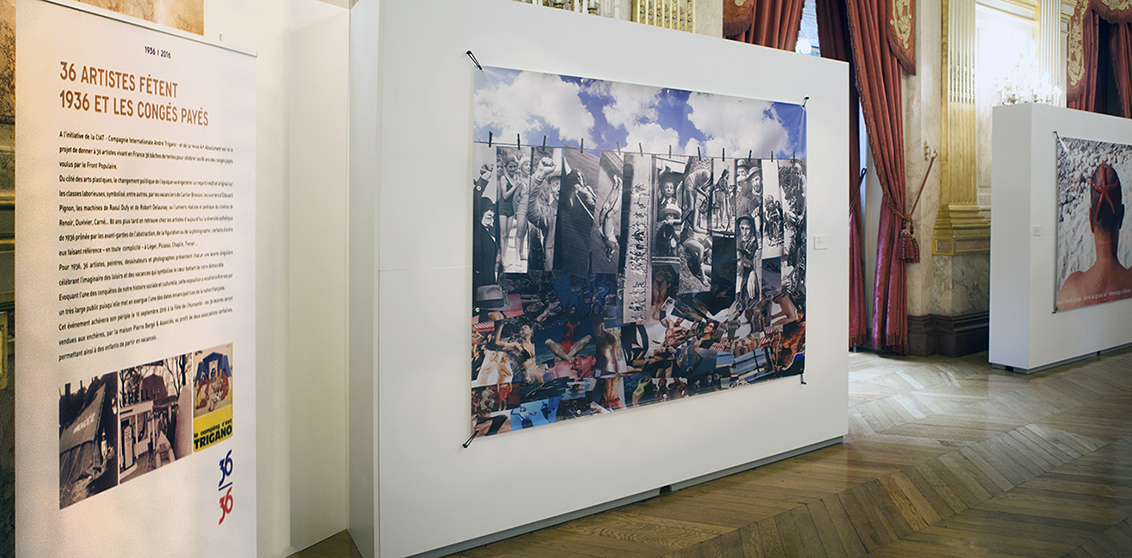 Depuis 80 ans, les Français bénéficient des congés payés, fruit de la loi votée le 20 juin 1936, qui fut l'une des initiatives marquantes du Front populaire. Afin de commémorer cet anniversaire, la revue Art Absolument, à l'initiative de la CIAT – Compagnie Internationale André Trigano – invite 36 artistes à s'exprimer. 36 peintres, dessinateurs et photographes ont créé une œuvre originale sur une toile de tente recyclée, dans un même format (160 x 200 cm), faisant un clin d'œil à l'imaginaire collectif de cette avancée sociale et culturelle relative aux loisirs et aux vacances.
Exposition itinérante en entrée libre et gratuite
Paris, Assemblée nationale : 17 au 20 juin 2016
La Rochelle, L'Oratoire : 26 juin au 3 juillet 2016
Sens, Marché couvert : 8 au 18 juillet 2016
Gruissan, Palais des Congrès : 23 au 31 juillet 2016
Thonon-les-Bains, Les Ursules : 13 au 22 août 2016
La Ciotat, Chapelle des Pénitents Bleus : 26 août au 4 septembre 2016
La Courneuve, Fête de l'Humanité : septembre 2016
For 80 years, the French enjoy paid holidays, fruit of the law passed on 20 June 1936, which was one of the key initiatives of the Popular Front. To commemorate this anniversary, the magazine Art Absolument, on the initiative of the CIAT – Compagnie Internationale Andre Trigano – invited 36 artists to express themselves. 36 painters, photographers and designers have created an original work on a canvas tent recycled, in the same format (160 x 200 cm), making a wink to the collective imagination of this social and cultural progress on leisure and holidays.
Traveling exhibition – free admission:
Paris, Assemblée Nationale: June 17 to 20, 2016
La Rochelle, L'Oratoire: June 26 to July 3, 2016
Sens, Marché couvert: July 8 to 18, 2016
Gruissan, Palais des Congrès: July 23 to 31, 2016
Thonon-les-Bains, Les Ursules: August 13 to 22, 2016
La Ciotat, Chapelle des Pénitents Bleus: August 26 to September 4, 2016
La Courneuve, Fête de l'Humanité: September 2016